Sid Meier's Civilization V (PC)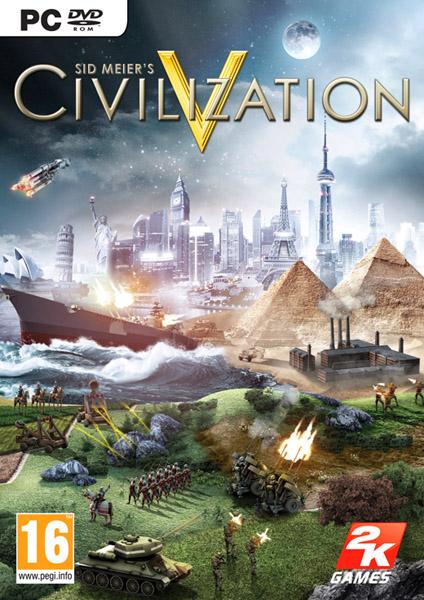 Sid Meier's Civilization V - For more than twenty years a series of Civilization worldwide has sold over nine million copies of the game, making it the greatest global strategy today. The fifth incarnation of the legendary "Civilization" takes on a new level of quality: opportunities and development options greatly increased, the opponents have become smarter, network game - interesting and varied, and the graphics - beautiful.
To hold his nation through the ages - from primitive society to a high-tech civilization, to survive the "golden age" and stand at the origins of world religions, to reinvent the wheel, and a nuclear reactor, built the Pyramids and the Statue of Liberty, to meet with the greatest political leaders, to manifest themselves in the role of a diplomat or a strategy - everything is possible in Sid Meier's Civilization V.
Fifth game of the famous series will offer fans of strategy to lead one of the eighteen nations, and conducting it through the centuries - from the Stone Age to the Space Age, to make the most powerful in the world.
Sid Meier's Civilization V differs from its predecessors, improved graphics, expanded diplomatic opportunities and new combat system. Now armed clash with the enemy - is not just a battle between two squads. Players will be able to massively attack the enemy in different directions and maintain basic forces bombing from the rear. I convinced pacifists also a free hand: they open the path of diplomacy, which is often more effective than military aggression.
In addition, the authors have maintained essentially finalized the multiplayer mode. It is to him the previous games in the series to a large extent owed their popularity. In Civilization V players from all over the world can not only compete with each other, but also to share scripts, compare results, to demonstrate their achievements, as well as just talk and visit related sites, without leaving the game.
In Sid Meier's Civilization V implemented a completely new combat system, the deeper the system of diplomatic relations in conjunction with many innovations. The new part of the popular strategy card is not divided into squares, as in previous installments of the series, and the hexagons. This allows players to think through the deeper tactics of confrontation, and opponents to create a more beautiful landscapes. Civilization V is built on a completely new engine that will help players to immerse themselves in the atmosphere of the game. Diplomatic communication now takes place not in the window, and in full screen mode and accompanied by a complete character animation, which communicate in their native languages. For those players who just prefer to beat, and then say, provides an improved system of warfare. It allows strikes on enemy territory at a distance.
Game Features Sid Meier's Civilization V:
# More than just a strategy. The updated graphics and sound Civilization V create a unique living world that is interesting to explore and conquer.
# Intuitive controls. Accessible and comprehensive training mode will help beginners get started in Civilization V, and series veterans will learn all about new features and capabilities.
# Impressive battle. Battles and military clashes in Civilization has never been so ambitious. The player is free to massively attack the enemy in different directions and maintain basic forces bombing from the rear. A variety of strategies opens a wide field for experimentation.
# Living History. Civilization V - is the ability to write their own history of the Earth. At the beginning of each game, a new world, and only the players depends on how events will develop further.
# Winning word. Negotiations with the rulers of other countries can sometimes be more effective than naked aggression. To pave the way for a diplomatic victory, will have to carefully monitor their actions, think about every decision and maintain friendly relations with leaders of other nations. Diplomacy presents many opportunities - from trade unions to conclude an exchange of territories.
# In-game communication. to prove their superiority can be not only computer policies, but also to other players. Dictators and tyrants, the Democrats and religious leaders from all corners of the earth can compete with each other via the Internet, to share scripts, compare results, achievements to boast, just to talk and visit related sites, without leaving the game.
# Own game. Thanks to an extensive-game tools, each player will be able to customize Civilization V, as he wants.
http://tinyurl.com/2w2jwbs